Black Umfolosi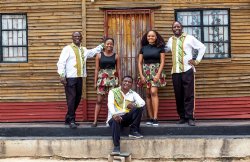 What

Black Umfolosi

When

11/17/2022, 7:30 PM

–

10:00 PM

Where

KMSC Law Performing Arts Theatre, 300 Arbour Hills Blvd.
Zimbabwe's greatest Ambassadors, performing music inspired by the traditional song and dance of their native Southern Africa, with a beauty and enthusiasm that is unrivalled. The group have become firm favourites around the world with people of all ages and cultures, due to their natural ability to communicate, passion and feeling in their performances.
Formed in March 1982, the Group takes the name from Umfolozi Omnyama River in South Africa to where their ancestors can be traced. Since from then the group has been growing from strength to strength, their performances are energy driven and completely engaging, mixing a great gentleness of spirit and song with an exuberance in dance. Their trademark harmonies mixed with intricate rhythms, clicking and clapping are highlighted during their brilliantly choreographed shows with full range of movements from subtle to vibrant stomping and leaping!!! Their famous Gumboot Dances showcase the traditional styles of Southern African mining regions and are a particular crowd pleaser.
Please catch up with their latest brilliant Album of 2020 'Washabalal'umhlaba' meaning the Earth Perishes, and thus from a climate change concern.
Copy to Google Calendar
•
Download iCal Event